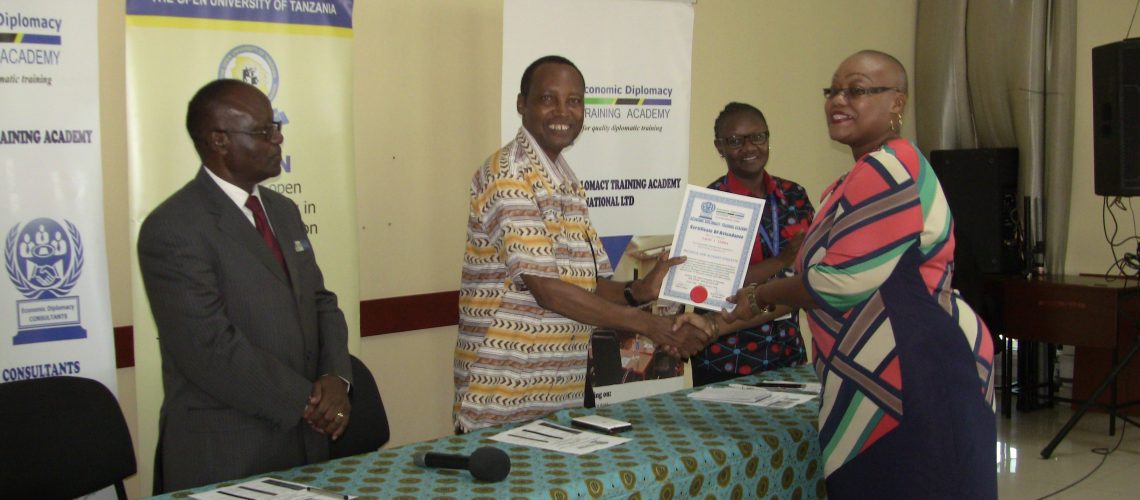 Economic Diplomacy Consultant, His Excellence Ambassador Nelson Lyimo, when facilitating economic diplomacy and protocol training on 25th-28th at the OUT's Kinondoni temporary headquarters in Dar  es  Salaam, said the training was going to cover two key aspects namely diplomatic and protocols.
He emphasized that the training is mainly centered on the two aspects because they are the focal points in government activities as well as in managing international activities and meetings. He added that participants will be taught three important things which are government protocols, corporate level protocols and private organizations protocols.
The the Open University of Tanzania (OUT) Vice-Chancellor, Professor Elifas Bisanda said even though we know there are diplomatic colleges, diplomacy, and protocol training is a new thing to many people. He added that participants were lucky because, despite the fact that every public servant deserves such training, the whole country has trained only 500 people.
"There are so many errors that arise regarding protocols, thus there is an urgent need for more people in the public service and even at corporate level to understand protocol procedures and diplomatic matters", Said Prof. Bisanda. One of the participants, Mr. Hamza Mkuwi when giving a vote of thanks on behalf of his colleagues from Zanzibar advised his colleagues to keep in mind and implement at work stations, home and in the entire society what they learned.
"In the four days, we have learned a lot that could take even a semester or three to four months to complete. We are thankful to the OUT for organizing the training and hosting us. The training went well and we felt like we were in Zanzibar." Said Hamza.
Participants included government officers, employees from various institutions and private companies. The training was hosted and organized under the auspices of the Open University of Tanzania.