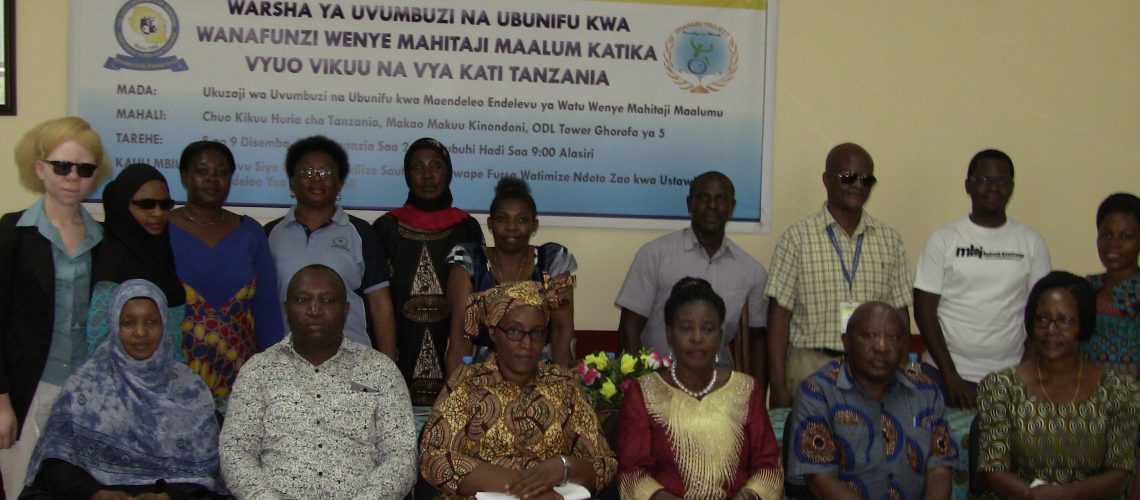 The OUT's Deputy Vice Chancellor for Resources Management, Professor Cornelia Muganda said if the society has to achieve sustainable development should involve all including special groups that often face the challenge of isolation, neglect, and denial in decision-making. Prof. Muganda made those remarks during the innovative workshop for students with special needs from different Universities and institutes in Dar es Salaam held at the Open University of Tanzania at Kinondoni in Dar es Salaam on 8th December 2018.
"People with disabilities are among the groups that experience isolation, neglect, and denial in decision- making and there is a need for development to affect everyone because all human are equal." Prof. Muganda said. Also, Prof. Muganda congratulated the founder of'Dhahabu' Project which aims at promoting, educating and empowering people with disabilities from7 to 35 years towards the achievement of industrial development.
'Dhahabu' Project Coordinator, Dr. Hadija Jilala who is also a lecturer at the OUT was delighted as the implementation of her idea and dream of connecting people with special needs and instituting a platform through which they can talk about their challenges have started to unfold.
"The purpose of this project is to build up courage, confidence, and self-awareness among people with special needs in order to fulfill their dreams."  Said Dr. Jilala. The OUT's Senior Lecturer and special needs students Unit Coordinator, Dr. Cosmas Mnyanyi said the implementation of a similar project dealing with screening child with hearing challenges in primary schools is ongoing in the regions of Dar es Salaam and Kilimanjaro.
The OUT's Assistant Lecturer challenged with sight, Paul Msoka pleaded with the government that besides the three percent employment quota for disabled, the government should make the environment-friendly for the disabled from the low level. He underscored that a friendly environment will enable them to study competitively and meet the quality and competition in the employment market.