Apply Now Online
Apply for Foundation programme, Undergraduate programmes, Masters programmes, and PhDs.
Undergraduate
Postgraduate
Daily Alerts:
21st PROGRAMME STEERING COMMITTEE & 37th EXECUTIVE BOARD MEETINGS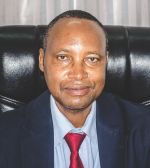 Welcome & Greetings!
We are delighted to know that you have decided to join our university.  The Open University of Tanzania is the higher learning institution of your choice.  Here you can pursue different higher education programmes through open, online, blended and distance learning modes.
OUT's Vision "To be a leading open online University, in knowledge creation and application" places the university, the one of its own kind in Tanzania and East Africa, in a unique position as an institution of higher learning that is at the forefront of turning Tanzania into a middle income and semi-industrialized country by daily churning out graduates who immediately play a key role towards realization of the country's vision. .......
Prof. Elifas Tozo Bisanda
Vice-Chancellor