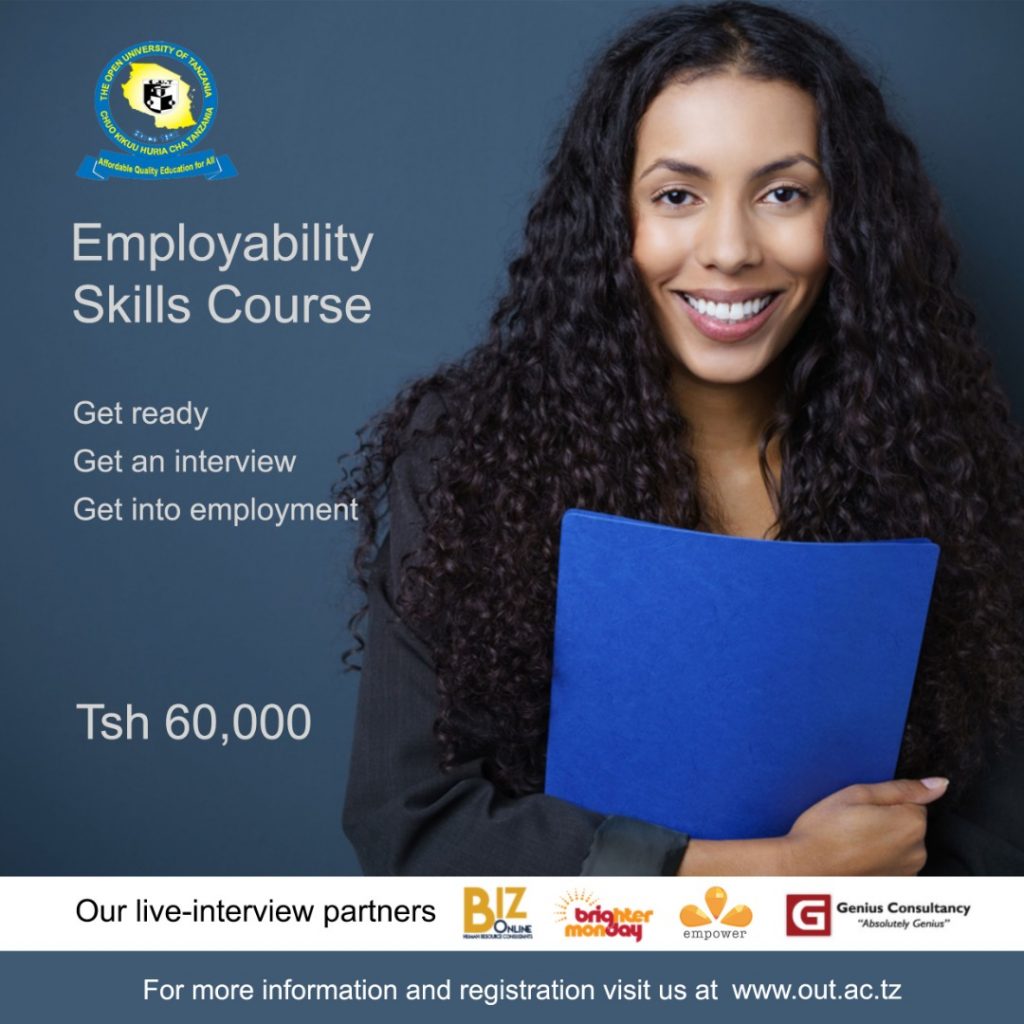 Employability Skills Online Self-paced course
Introductory offer of 60,000/=
Please note: This is a self-paced course meaning you can start and finish whenever you like. There are no live video lessons or tutor interaction but here are three tutor-marked assignments. The only face-to-face interaction you will have is during the live interview at the end of the course.
Many people leave school and university with really good qualifications but find it hard to make the transition into the world of work. This is because schools and colleges do not teach soft skills like communication and technical skills like how to send a professional business email.
There are three assignments which make up your final mark on this course.
| | | |
| --- | --- | --- |
| Assessment task | Assessed by | Weight |
| 1. Sending an email | OUT staff | 20% |
| 2. Live interview | Independent recruitment officer | 50% |
| 3. Self-reflection essay | OUT staff | 30% |
The pass mark for this course is 70%
90+ Pass with distinction
80+ Pass with merit
70+ Pass
At the end of the course there is a real live interview with a recruiter which will test your CV writing and spoken communication skills. This will give you a great opportunity to practice what you've learnt on this course and give you an experience which will make you more confident at your next interview.
As emailing is such a big area of concern with employers, there is also individual feedback on an email which you will write and send.
At the end of the course you will be required to practice your written communication skills by writing a short self-reflection essay on what aspects of your own behaviour and actions needs to be improved.
You need to attempt all three assessments to get a final mark.
Welcome to our Employability Skills course.
Learning outcomes
Understand different forms of communication and their appropriacy
Identify and remove possible communication barriers
Reflect on and improve your own communication skills
Understand the format of a professional business email
Learn common phrases used in business emails
Identify your own areas of weakness in the 5 digital skills competences
Know where to go online to find free skills courses
Identify places to find job vacancies
Identify jobs for which you are suitable
Write a simple CV
Write a cover letter
Practice interview skills
Write a self-refection essay
All payment should be done through:

Bank Name: NBC
AC Name: The Open University of Tanzania
AC No: 011103033713

For more information regarding payment and enrollment contact:
Phone: 0715 29 59 31

After payment is received, you will receive an email with your course login details.