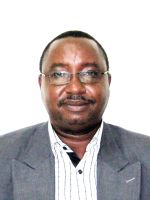 Department of Accounting and Finance
Dr. Proches Ngatuni
IGU Coordinator
Proches Ngatuni is a Lecturer in Finance and the current Dean of the Faculty of Business Management. As Dean, Dr Ngatuni is responsible for providing academic leadership to the Faculty as well as contributing to the overall leadership of the University.  At Faculty level this includes effective management of resources, in alignment with the University's strategic plan, to support, develop and enhance teaching, learning, research and knowledge exchange activities. He is also the Chair of the Faculty Board and an ex-officio member of all committees in the Faculty.
First with a B.Com (Hons) degree from the University of Dar es Salaam, he became two times winner of Commonwealth Scholarships for M.Sc. (Finance) and Ph.D in Accounting and Finance both at Strathclyde University in Glasgow, Scotland -UK.
Prior to his current appointment on 12th of April 2012, Dr Ngatuni served as Head of Department of Accounting and Finance and the Faculty's Coordinator of Postgraduate Programmes. He joined the Open University of Tanzania in 1994 as a Tutorial Assistant after a short spell in industry with the then Coopers and Lybrand, before it became PriceWaterHouse Coopers. Other posts held at OUT include Coordinator of Masters programmes, Coordinator of Income Generation Unit, and Care Taker of the Institute of Continuing Education.
Dr Ngatuni has attended various seminars and workshop on Open and Distance teaching and learning locally and aboard, including participating in the development of a course in Business Organisations and their environment for the Open University UK under OU – UK International Fellowship Programme.
His teaching interests include Corporate Finance, Investment Analysis and Management, Financial Markets and Institutions, Research Methodology, Business Mathematics and Statistics, and Quantitative Methods, at undergraduate level with an experience extending to his time at Strathlyde University as a Graduate Tutor. He also teaches Financial Management, Advanced Corporate Finance and Business Research Methodology for MBA and MHRM and MPM programmes in Tanzania, at the Institute of Human Resource Management (IHRM) Nairobi Kenya, and at the OUT Centre in Kibungo, Rwanda.
His research is focused on corporate financing, microfinance services, enterprise development and business training. He has published locally and internationally including a paper in the Journal of Business Finance and Accounting (JBFA) (with Andrew Marshall and John Capstaff). Other publications include a study material – OFC 005 Mathematics for Foundation Course – for the Open University of Tanzania (with Innocent Alhamis).
Ngatuni has participated in a number of consultancies in the Local governments and in non-governmental organizations.  He has also participated in, and chaired, various teams to review business training programmes for accreditation, and to evaluate various