ICDL Certifies OUT Non Degree Computer Programmes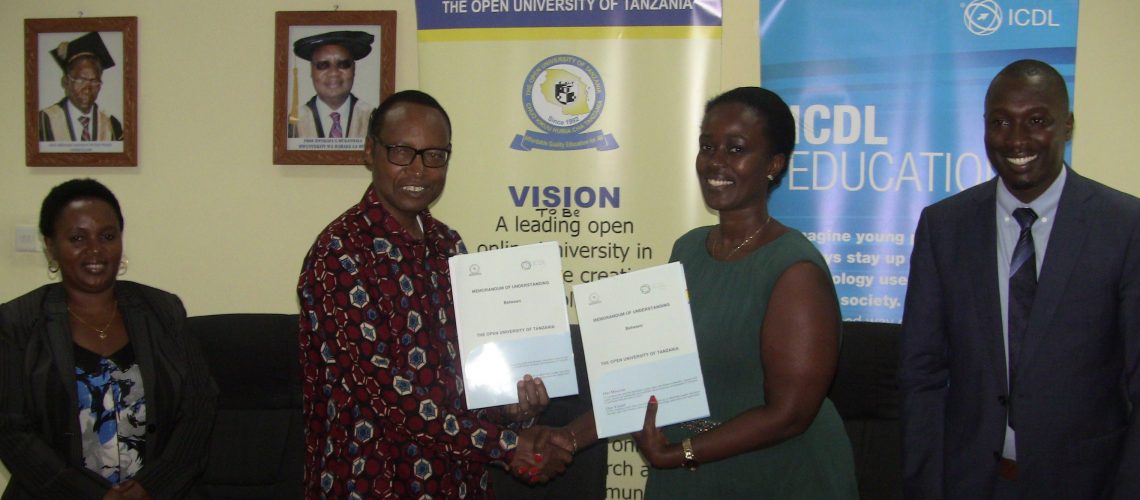 The Open  University  of  Tanzania  (OUT) Vice-Chancellor Professor Elifas Bisanda and International Computer Driving Licenses (ICDL) Africa Regional Manager Ms. Umulisa Solange signed a memorandum of understand- ing  (MOU)  on  behalf  of  their  organizations on 16th February 2019 at the OUT's temporary headquarters Kinondoni in Dar es Salaam as a sign of the ICDL's endorsement on OUT's non degree ICT programmes.
Speaking at the event the OUT  Vice  Chancellor Prof. Bisanda, said currently every Institution in Tanzania is offering ICT certificate and diploma courses through its own arrangements. He added that the signing of the agreement is a milestone step in the provision of ICT programmers and signifies the beginning of standardization of ICT non-degree programmes curricula in the country. According to Prof. Bisanda, there is a need for all institutions that offer ICT and computer-related courses to be accredited by ICDL so that there is uniformity in their programmes and also to ensure that their graduates are adequately and equally baked.
"It should reach at a point where having ICT certificate and diploma program which has been accredited by ICDL is a must for public workers, just as it is for vehicle driving license where without a license there is no driving," Said Prof. Bisanda. Ms. Solange made a promise that ICDL will ensure that Tanzanians acquire suitable skills in ICT. She further said we work closely with the government in order to have its endorsement on ICT nondegree programmes standardization and accreditation issue. She thanked the OUT for joining the global family of the ICDL and contended that ICDL will make things easier for the University.
ICDL is the World's  leading computer skills certifier. ICDL programmers define the skills and competences necessary to use a computer and common computer application. It offers a wide range of modules including Computer essentials, word processing and IT security.